Bipartisan Border Deal Reached to Prevent Another Trump Shutdown
Last week, the House and Senate came to a rare bipartisan compromise and passed a bill to fund the government and address some border security concerns. While it was not everything we wanted (more on that below), Congress cannot continue to govern by shutdowns.

Tomorrow, I am hosting a town hall in Concord. Please join me to hear more about the deal, the President's emergency declaration, the recent shutdown, and what Democrats plan to do in the Majority.
Concord Town Hall Meeting
Wednesday, February 20th
6:30 p.m. to 8:00 p.m.
Clayton Valley Charter High School
Multiuse Room
1101 Alberta Way
Concord, CA 94521
Doors open at 6:00 p.m.
We hope to see you there!
Sincerely,



Mark DeSaulnier
Member of Congress
In this week's Digest, you will find information on:
Governor Newsom's decision to press reset on California's high speed rail project,

Mark's vote in favor of keeping the government open, and

Our upcoming event to rename the Richmond Main Post Office in honor of a former leader in the Richmond community-Harold D. McCraw, Sr.
Governor Newsom's decision to halt California's high speed rail project offers a unique and long overdue opportunity to press the reset button on the California high speed rail project from San Francisco to Los Angeles. Mark has long been skeptical of the reality of the project and has advocated for greater oversight. Below you will find the coverage of his position in the news, including a piece that he wrote for the San Francisco Chronicle.
Mark pens opinion piece on Governor Newsom's high speed rail decision. Click the image below to read.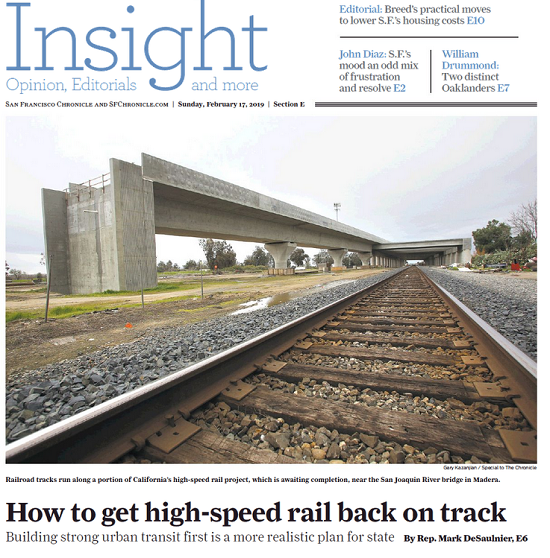 Mark spoke with ABC7 News Bay Area about Governor Newsom's announcement. Click the image below to watch.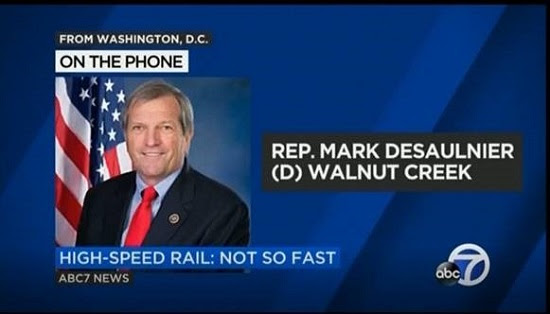 Bipartisan Border Deal (Conference Report to Accompany H.J.Res. 31)
Rather than allow the President to again shut down the government after the suffering he caused federal workers and the American public for 35 days, we passed legislation to keep the government open and funded. The package was both a funding agreement and a border security measure. Among its positive provisions, the deal makes much needed investments in environmental programs, infrastructure, and affordable housing; provides a pay raise to federal workers; ensures the humane treatment of immigrants; and assists with California wildfire cleanup efforts.

We should not be governing by shutdowns. It is not a perfect deal, but it is a bipartisan agreement between both chambers of Congress. Mark supported this measure, which passed by a vote of 300-to-128 and has been signed into law, avoiding another shutdown. To read more about the content of the deal, CLICK HERE.

Supporting Electric Trucks
Included in the funding deal was a provision authored by Congressman DeSaulnier that will help accelerate the transition to clean transportation in the trucking industry. This measure allows electric battery powered trucks to exceed federal weight limits by 2,000 pounds to offset the battery systems that are heavier than traditional diesel fuel tanks. We are pleased that it is now law, and will help spur innovation, support manufacturers, promote cleaner technologies, and protect public health and safety.
As we celebrate Black History Month, we are pleased to invite you to join us on Friday, February 22nd at 1:00 p.m. for a special ceremony to rename the Richmond Main Post Office after Harold D. McCraw, Sr., a distinguished member of the African American community and leader in Richmond. Mr. McCraw served the United States Postal Service (USPS) for 45 years, beginning in 1965 at the Richmond Post Office. He also served on various boards and commissions, and he facilitated the development of a child care facility that has expanded to five locations and cares for hundreds of children in our area.

We will celebrate the formal renaming of the Richmond Main Post Office alongside Mr. McCraw's family and friends, Richmond Mayor Tom Butt, representatives of USPS, and other local leaders. To RSVP, please email CA11.RSVP@mail.house.gov.
Harold D. McCraw, Sr. Post Office Naming Ceremony
Friday, February 22nd
1:00 p.m. to 2:00 p.m.
Richmond Main Post Office
1025 Nevin Avenue
Richmond, CA 94801
Mark meets with local TPS holders and national advocates to discuss the Trump Administration's destructive immigration policies and the impact on families in our district.