Mark Leads Floor Debate on Mueller Report
In D.C. last week, we commemorated Sunshine Week, where we shined light on the need for oversight, transparency, and accountability within the Administration. As we head into a week where I am at home in the community, we have provided you with some highlights of our work in D.C. last week.
Sincerely,



Mark DeSaulnier
Member of Congress
In this week's Digest, you will find information on:
Mark leading the debate on making the Mueller report public (H.Con.Res. 208)

Joining with fellow Bay Area Members of Congress to honor Rosies

Mark's questioning of Department of Commerce Secretary Wilbur Ross on the 2020 Census
Mark Led Debate on Making the Mueller Report Public (H.Con.Res. 208)
Last week, Congress considered a straightforward Democratic resolution expressing the sense of Congress that the report by Special Counsel Mueller should be made available to the American public and to Congress. With Mark's support, this resolution passed unanimously in a rare bipartisan victory for transparency.
Click below to watch Congressman DeSaulnier manage the rule for the resolution and speak on its merits:
Mark Joins with Bay Area Members to Honor Rosies
Congressman DeSaulnier joined with Congresswoman Jackie Speier (D-CA) and Congressmen Jared Huffman (D-CA) and Brian Fitzpatrick (R-PA) to introduce legislation honoring the women who joined the workforce or volunteered during World War II, frequently known as "Rosie the Riveter." These bills, one that would award a Congressional Gold Medal to Rosies and one that would recognize March 21, 2019 as "National Rosie the Riveter Day" are fitting honors for this group of sheroes.
Mark Introduced the Improving Aviation Safety Act (H.R. 1775)
Mark joined his colleague on the House Transportation and Infrastructure Committee, Representative Pete Stauber (R-MN), to introduce the bipartisan Notice to Airmen Improvement Act (H.R. 1775), a bill to complete a long-overdue safety enhancement for our aviation system. The near miss incident at SFO involving Air Canada Flight 759 in July 2017 highlighted the need to improve the antiquated "Notices to Airmen" or "NOTAM" system. Clear and effective communication of important safety information to flight crews is critical to the safety of flight crews and the flying public.
MARK QUESTIONS COMMERCE SECRETARY ROSS OVER CITIZENSHIP QUESTION ON THE CENSUS
On multiple occasions, Chairman Cummings and the House Committee on Oversight and Reform have asked for information about why Secretary Ross was interested in adding a citizenship question to the 2020 census before the Department of Justice even officially asked for it, but we have been stonewalled at every turn by the Commerce Department. Last week, Mark demanded answers about the Department of Commerce's deceptive behavior surrounding the addition of the citizenship question and asked for Secretary Ross to quit playing games and give his full commitment to provide the Oversight Committee with all the facts. Watch the exchange below: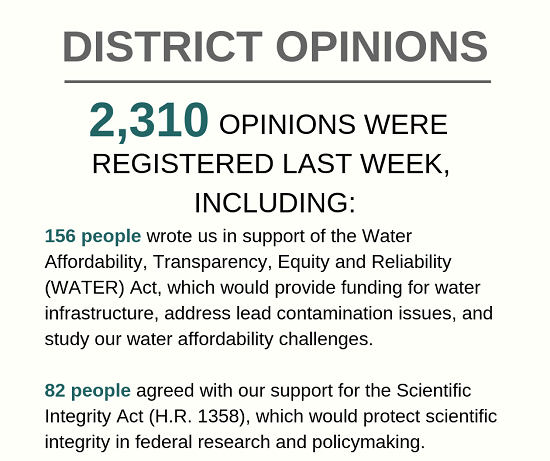 In the wake of the senseless tragedy in New Zealand, Bay Area Cultural Connections and the Pacifica Institute held an interfaith vigil to mourn those lives lost.