The Shutdown Has Ended...For Now
On Friday, after 35 days of holding our government hostage, inflicting financial hardship on 800,000 federal employees and their families, opening Americans up to new security and safety concerns, and hurting our economy, President Trump finally agreed to reopen the federal government.

The agreement reached on Friday funds the government through February 15th, and establishes a border security working group. However, President Trump has already threatened that if he does not get funding for a border wall, he could shut down the government again. Governing by shutdown is unacceptable, and I hope he will learn from his mistakes and work toward a productive solution.
Sincerely,



Mark DeSaulnier
Member of Congress
In this week's Digest you will find information on:
Our upcoming Gun Violence Prevention Town Hall with Congressman Mike Thompson

Action Mark took with Congresswoman Barbara Lee to get answers on why a flight was stuck on a tarmac with no air conditioning

Mark's take on the current state of play in Washington
Gun Violence Prevention Town Hall with Congressman Thompson
At the end of last year, we asked and many of you voted on which topics you would like us to host town halls on this year. One of the leading topics was gun violence, and in the coming weeks we will join with Congressman Mike Thompson, Chair of the Gun Violence Prevention Task Force, to bring this conversation to Martinez. Please see the details below, and we hope to see you there.
 
Gun Violence Prevention Town Hall
Saturday, February 9, 2019
2:00 p.m. to 3:30 p.m.
Alhambra High School
150 E Street
Martinez, CA 94553
Doors Open at 1:30 p.m.
RSVP Here: https://desaulnier.house.gov/town-hall-rsvp
Mark and Congresswoman Barbara Lee Call on Aeromexico to Provide Answers about January 10th Incident at Oakland International Airport
On January 10th an Aeromexico aircraft was diverted to Oakland International Airport due to fog and spent more than four hours on the tarmac with no air conditioning and reports of little to no food or water. As a result, Mark and Congresswoman Barbara Lee sent a letter to Aeromexico expressing their concern and seeking answers about how the airline let this happen.

In the letter, the Members wrote: "This incident is of serious concern to our constituents, to travelers visiting the San Francisco Bay Area for work or leisure, and to aviation passengers who deserve fair and decent treatment from airlines."
Mark is leading and effort in Congress to improve federal safety standards at oil refineries
Twenty years ago, as a Member of the Contra Costa County Board of Supervisors, Mark and his colleauges took swift and bold action to improve safety standards at oil refineries following a stream of devastating explosions that led to death and injury. Despite the progress made in Contra Costa and later in California, federal standards continue to lag behind. Mark is now leading an effort at the federal level to make our communities safer and protect workers by updating these outdated standards.

Read more about this effort in the piece that Mark wrote for the Mercury News below.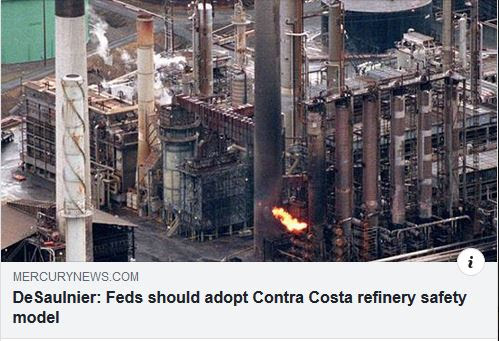 Mark spoke with Claudine Wong with KTVU, about the potential for a second shutdown. (Click the image below to watch)
Mark spoke with Alex Witt on MSNBC about the state of play in Washington and recent developments in the Mueller Investigation. (Click the image below to watch)
Mark with Danville Mayor, Robert Storer, and other Tri-Valley Mayors